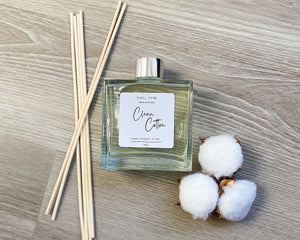 Clean Cotton Reed Diffuser
Freshen up your fragrance line with Clean Cotton, and capture the nostalgic aroma of line-dried sheets on a sunny, breezy day. This scent begins with calming cotton blossom and a touch of lemon, giving way to a heart of crisp linen. Base notes of powder, sandalwood, and violet ground this clean, classic fragrance. 
Generously fragranced and hand blended with an eco-friendly base.
Our diffusers are finished with 6 natural rattan reeds, making them the perfect way to ensure a strong and long-lasting scent throughout your home. 
Hand poured in a classic 
square reed diffuser bottle and finished with a minimalist label, our reed diffusers are at home in any room and compliment any decor. Beautiful on the coffee table, nightstand, or bathroom vanity. 
Height: 4.27 inches
Width: 3.56 inches
Net Wt: 4 oz
Lasts up to 6 months
100% natural fragrances
How To Use:
Unscrew the collar and remove the seal
Replace the collar and insert the reeds
Allow 48 hours for the fragrance to fill the room with scent
For a stronger scent use all of the reeds and turn daily, for a more subtle scent use fewer reeds and turn less often
I personally used it in my home and it has lasted over a a year.