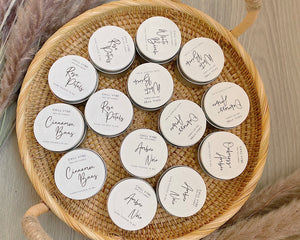 Soy Candle Samples
Having a hard time trying to figure out what candles to order?! Well now you can sample our scents with 2oz tin candles. Each candle burns for 10-20 hours which is the perfect amount of time for you to get a feel for the smells. Our pack of 5 includes all our current scents. When checking out make sure to specify which scents you'd like to try from the list below:
 Scent: Beach Linen, Sea Salt and Orchid, Honeysuckle Jasmine, Coconut Lime, Day at the Spa
Have fun and explore! If you'd like for us to put together a pack for you just let us know in the Scent Preferences box.
Burn Time: 2oz (10-20 hrs)